Rolling and Bowling
Almost forgotten now, but Winton once had its own skating rink and indoor bowling facility.
Both were accommodated at different times in a building where the BT Exchange complex now stands in Wycliffe Road.
Dancing on wheels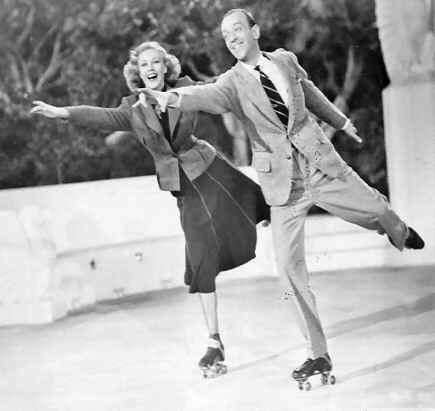 Scores of youngsters flocked to the roller skating rink in the late 1930's. It cost sixpence a session, including hire of skates, and got a boost in popularity from Fred Astaire and Ginger Roger's roller skating routine in the 1937 film "Shall we dance?".
Music from the soundtrack was probably among the favourites played over the loudspeakers.
But roller skating did not go down too well with the neighbours who complained about the noise - not just the music but the general hubbub.
The rink was closed in 1939 never to reopen. The building was turned over to wartime use.
Big Time bowling
Before roller-skating, though, it had been the base for Bournemouth's indoor bowling community.
Founded in 1931 and one of less than thirty in the country, the Bournemouth Indoor Bowling Club included a couple of international players who took part in competitions at the Wycliffe Road links along with everybody else.
It gained so much popularity that in 1936 it moved from Wycliffe Road to the newly built Winter Gardens, vacating the property to roller skating.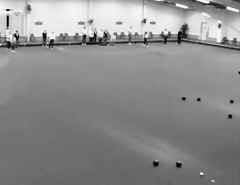 But just as the war marked the end of roller skating, it also ended indoor bowls at the Winter Gardens.
By 1948, the club was back in Winton where a four rink surface was laid above the Stokewood Road swimming pool. Despite winning a prestigious national competition, the club failed in its attempts to return to the Winter Gardens.
In 1954 there was another move. This time to a private venture four rink development in Denmark Road. The project failed after a couple of years and the club was once again homeless until 1969 when a luxury bowling centre was created in Southcote Road. This too was doomed and subsequently turned into the 2CR-FM radio station headquarters.
Nowadays the Bournemouth Indoor Bowling Club is based at Kings Park where it has nine rinks on one of the largest greens in the country.
---