Rock Idols
One of Britain's great progressive rock bands has its origins in Winton. For more than thirty years King Crimson has been a name to reckon with. Two of its founder members were the brothers Michael and Peter Giles from Winton.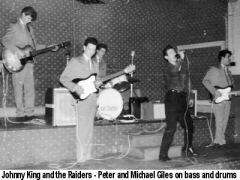 Michael was a drummer, Peter was a bassist and both played during the Sixties with a series of local bands including Johnny King and the Raiders, Dave Anthony and the Rebels, the Dowland Brothers, the Soundtracks, the Sands Combo, the Interns, and Trendsetters Ltd. Also playing in Johnny King and the Raiders was Roger Collis, from Maple Road, who went on to found the Big Roll Band.
As part of supporting groups they made an appearance in at least one of the famous talent contests held at the Moderne Cinema.
A big name both locally and further afield as a backing group, Trendsetters Ltd had several of their own shows on Radio Luxemburg and even released a record - although it was never a hit.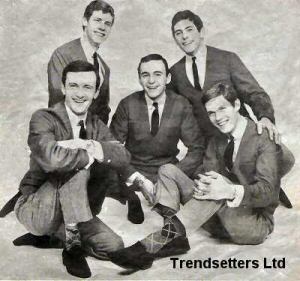 In 1966 the Giles brothers left Trendsetters Ltd to form their own band. They advertised for local musicians to join them.
One of the responses came from Robert Fripp, a guitarist from Wimborne who had played with League of Gentlemen and was currently guitarist with a local dance band. Together they formed Giles, Giles and Fripp - a band that had little live success but did release a couple of singles and an album.
This was to be the core of King Crimson.
Peter Giles left the band in 1968 to become a computer programmer. He was replaced by local lad Greg Lake who in due course was to get fame in his own right as part of Emerson Lake and Palmer.
With the addition of other musicians, King Crimson became one of the most influential progressive rock bands of the late sixties and seventies. They were an international name and appeared at major venues around the world. "In the court of the Crimson King" and "In the wake of Poseidon" were the first of a long series of albums released across four decades.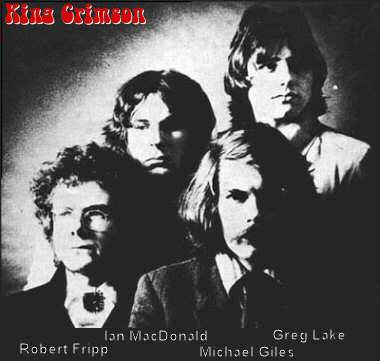 In 2002 the Giles Brothers reunited musically to form 21st Century Schizoid Band together with other King Crimson veterans Mel Collins, Ian McDonald and Michael Giles' son-in-law Jakko Jakszyk. The band has released several LPs.
The Giles brothers were part of a sixties Bournemouth music scene that produced a number of other big names.
The roll call incudes Zoot Money (and the Big Roll Band ), John Wetton (Family, King Crimson, Roxy Music and Uriah Heep), Lee Kerslake (Uriah Heep, Ozzy Osbourne, Black Sabbath), Andy Summers (the Big Roll Band, Police and many others), Gordon Haskell, Al Stewart and jazz pianist Al Kirtley.
Before developing into a jazz pianist, Kirtley played with the Trendsetters, Giles,Giles and Fripp, Screaming Lord Sutch and Zoot Money among others. His first paid gig was in the late 1950's as part of the Tennessee Tramps skiffle group playing during the interval at the Moderne cinema.
This is how he describes the event: "We somehow talked our way into doing an interval slot at the Saturday morning picture show at the Modern Cinema. This was an important gig for me, because, for the first time, I was going to sing a number. We worked our way through our programme, my nerves steadily worsening as we did so, and then it was time for me to step out to the front and face two hundred kids, who were waiting impatiently for the Hopalong Cassidy main feature to begin.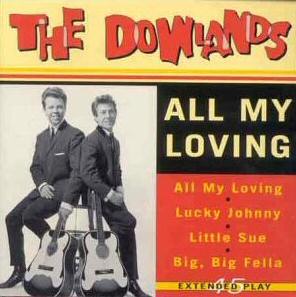 With the washboard hanging from my neck by a string, I launched into Frankie and Johnnie - not a song noted for its upbeat tempo. As I worked my way desperately through all fourteen verses, I began to sense a certain restlessness amongst the audience, but I managed to get to verse ten before the first coins started hitting the stage. Undaunted, I plodded gamely on to the end, and then gathered up the coins. They came to sixpence ha'penny. "
Another band that owed its big break to the Moderne talent contests was The Dowland Brothers. They toured nationally and had at least one chart hit with their close harmony Everley Brothers sound.
They were part of a collection of names produced by the legendary Joe Meek. Among their recordings was a cover of the Beatles song "All my loving" which stayed in the charts for two months in 1964. It was also their first and only US single. Their subsequent releases were eclipsed by Liverpool bands like the Merseybeats.
Visit Al Kirtley's site for more recollections of Winton's golden rock era.