Roads
Origins of Winton road names
Peters Hill is believed to have been so called because the spire of St. Peter's Church could be seen from it. Another explanation is that it got its name from an old man called Peter who at the beginning of the 20th century had a naptha-lit stall decked with tin kettles, mats, brushes and other hardware. The locals called his pitch on the hill "Peter's Dump".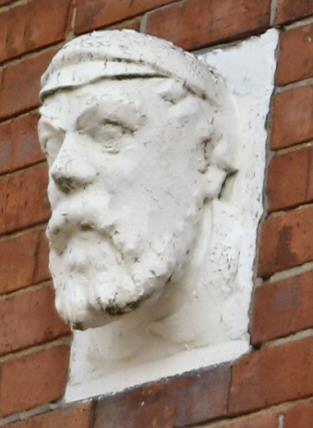 Charles Burt was a prolific Victorian builder in Winton. He had this plaster cast of his head set in the wall of a house in Cardigan Road
Smithfield Place used to be called Burden's Place - Henry Burden, Grocer and Draper, kept shop there in the 1870s and 80s. By the end of the century the shop had changed hands and was owned by George Newitt, before becoming Claytons, and keeping that name for the next forty-odd years. By the mid 1890s blacksmith William George Tuck had come to the Place, which probably accounts for its change of name.
Calvin, Cranmer, Latimer, Luther, Ridley and Wycliffe Road are all named after Protestant churchmen.
MacWilliam Road, off Malvern Road, bears the name of James McWilliam - a builder and leading Congregationalist who represented the area on the newly created Hampshire County Council and advised the Talbot Estate on some of the building development in Winton and Moordown. At the end of the road is a thatched cottage which is the oldest house in the two villages.
Pine Road may have been so named because it led past one of the new pine plantations.
Heron Court Road was named after Heron later Hurn Court on Lord Malmesbury's estate near Holdenhurst.
It is likely that Castle Road was renamed from Post Office Road because it led roughly via Gresham Road and East Way to Castle Lane, which, in turn, led to Highcliffe Castle.
Road names like Dunbar , Dunkeld and Glenfirness were chosen to reflect the Scottish ancestry of the Talbot sisters, and former Talbot Woods landowner, Lord Leven.
Alma, Waterloo and Trafalgar Roads are named after battles. Cardigan Road is named after Lord Cardigan who led the Charge of the Light Brigade in the Crimean War.
Others who gave their names to roads:
Hankinson Road was named after Bournemouth's first Mayor, T. J. Hankinson.
Truscott was named after Sir Francis Wyatt Truscott, Lord Mayor of London , who opened the pier.
Abbott and Luckham were Aldermen.
Bemister was a local businessmen.
Frampton was named after Charles Frampton, first and only chairman of the short-lived Winton Urban District council (1898-1901).
Rev. Herbert Bloomfield was a popular vicar of St. John 's for many years.
Fitzharris was the title of the eldest son of Lord Malmesbury.
Roads renamed
The new portion of Brassey Road (formerly Church Road) was called Sherbourne Road and the corresponding part of Castle Road (formerly Post Office Road) and of Pine Road were Sarum and Frances Roads with York Road (now Merley) to the east.
Crichel Road was Arlington Road and Melville Road was Gordon Road. Nelson was replaced by Markham, and what are now Strouden and Hawthorn Roads were Wynyard Road and Laundry Place. Bournemouth Steam Laundry in Post Office Road was the precursor of the large Castle Laundry.
Ensbury Park Road was originally Muccleshell, Maccelshell or Muggleshell Lane although it does not run in that direction.
---