The German Church
Dorset's only German speaking church was established in Bournemouth in 1949.
The congregation of around a hundred was a mixture of former prisoners of war, servicemen's wives, refugees, students and other expatriates.
It worshipped at several local churches until it finally got its own building at the junction of Malvern Road and Easter Road in 1963.
Renamed as the Martin Luther Church, the building was formerly the St Birinus mission church, an offshoot of St John's in Moordown.
It was built in 1914 at the start of the First World War, but had been redundant for many years.
The grey stone exterior was soon renovated and whitewashed to look like the kind of church you will find in any German town or village.
International Community
The congregation grew to include more than just the members of the German and Austrian community. It was boosted by other Lutherans from Latvia, Estonia, Scandinavia and Hungary.
Services were held regularly and the highlights of the year were the traditional Christmas Eve service and the Martin Luther Day celebrations held every November 10.
In 1970 a modern hall was built next to the church. It was opened by the German ambassador.
As the congregation declined through the the 80's and 90's the hall became vital to the church's existence.
It was used by the Rita Jenvey School of Dancing who rented it for 27 years. The income paid for repairs and upkeep.
When the church celebrated its 50th anniversary in 1999 there were already worries about costs. By 2006 it became clear that the church building was no longer economically viable and it was decided to sell it.
The last service was held in January 2007. Exactly twelve months later the building was demolished and the plot turned over to a housing development.
Survival
The small congregation continues to hold services at Holy Epiphany Church in Castle Lane West every 2nd Sunday in the month at 3pm.
The building may have gone but thanks to the generosity of the German community its memory lives on in several ways.
The church bell was donated to church in South West Africa and now calls congregations to prayer in Windhoek, Namibia.
Many German books belonging to the church have been given to the Bournemouth and Poole libraries.
The church organ is now at the Bishop of Winchester School in Mallard Road, North Bournemouth.
And every Christmas the congregation at the Holy Epihany Church will see the large crib that once belonged to the Martin Luther Church in Easter Road.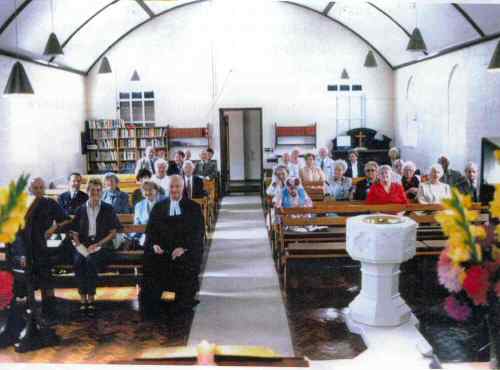 The Martin Luther Church congregation in 1999