The Little Theatre
The cinemas may have gone, but live theatre lives on in Winton. With a small but well-equipped theatre in Jameson Road, the Bournemouth Little Theatre is the oldest amateur drama club in the area.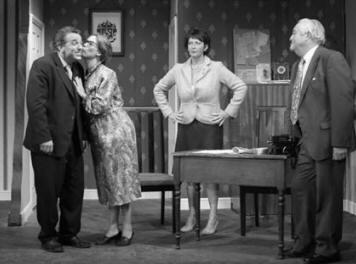 Formed in 1919 as The Bournemouth Dramatic and Orchestral Club, it originally it had its own custom-designed 450 seat "Little Theatre" in Hinton Road.
This was opened in 1931 two years after the much larger municipal Pavilion Theatre. Unfortunately the location proved hard for visitors to find. The name was soon changed to The Palace Court Theatre to signal the fact that it backed on to the well-known Palace Court Hotel in Westover Road.
The Club stayed in business throughout the Second World War and resumed full activities after hostilities ceased.
Busy times
By the mid 1950's it staged seasons packed full of productions, professional shows, basement starter plays and morning teas and coffees on the premises. The Club was, in fact, so successful that a limit of 1500 had to be placed on membership.
Several well known actors and actresses started to make their name at the Little / Palace Court Theatre. One of the best known is Charles Gray who specialised in sinister characters - notably in James Bond and horror movies.
The heyday both of the Club and English provincial theatre is often considered to have been in the late 1940s and throughout the 1950s, when the Club continued to enjoyed high membership numbers and enthusiastic audiences.
But like the cinemas, theatre lost audiences to television during the 1960's. At the same time there was a fall in the seasonal family holiday audience. The two factors made it increasingly difficult to match income against costs.
In 1971 the Hinton Road theatre was sold.
Move to Winton
After a couple of years of temporary accommodation, the Little Theatre finally moved, in 1975, to its present upstairs location at 11 Jameson Road in Winton.
The property was originally designed during the 1930s for use as the staff canteen area of the large garage below. The floor of what is now the auditorium is actually a superbly sprung dance floor. Over the years a continuous series of alterations has changed the original, rather stark premises into today's intimate theatre.
The auditorium has a capacity of 95 seats, with all but the back row of 9 bench seats being very comfortable (ex-cinema) tip-up seats. With the exception of the front row, all seats are raked to give optimum viewing of the stage. There is an area for serving interval teas and coffees behind the auditorium and a corridor leads to the Green Room Bar and other facilities.
The Bournemouth Little Theatre Club continues to stage a range of productions at regular intervals. Full details can be found at their website - www.bournemouthlittletheatre.co.uk/
---