Tony Hancock - the tragic funny man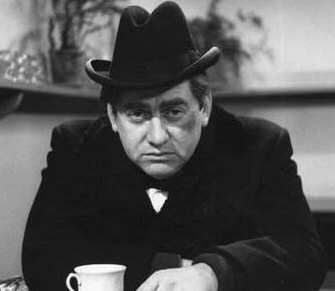 Winton was the first home in Bournemouth of a man who came to be a great comic genius of the 1950's and 60's - and whose name still lives on for the way he captured a very specific kind of Englishness.
Tony Hancock was born in Birmingham in 1924, the son of comedian and entertainer John Hancock.
His family came to Bournemouth for a holiday and liked it so much that in 1927 they bought the Mayo Hygienic Laundry in Wynyard Road, Winton.
You wont find Wynyard Road on the map because it was subsequently renamed Strouden Road.
The former Hancock home became 144 Strouden Road until it was demolished relatively recently.
The Hancocks only lived in the house for a year before moving again to take over the Railway Hotel (just next to the railway bridge) in Holdenhurst Road.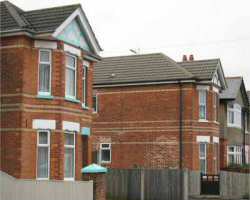 The old Hancock home was between these two houses.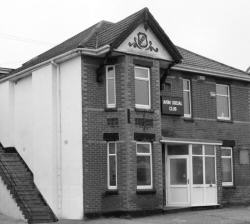 Avon Road Social Club - scene of Hancock's first professional engagement
The time in Winton may not have a particularly happy one.
By their first Christmas in the Wynward Road laundry, Tony had developed rickets - an illness which is often associated with undernourishment. It left him with a stoop for the rest of his life.
Tony's father died of cancer in 1935 at the Royal Victoria Hospital, Boscombe.
His mother subsequently remarried and she and her new husband continued in the hotel business, running among others the Talbot in Wimborne Road, the Marsham court, and the Harbour Heights.
The late 1930's found Tony already trying to follow in his father's footsteps as an entertainer. In 1939 he failed an audition for Willie Cave's Revels - a variety show that performed on Bournemouth beach.
He took a commercial skills course at Bournemouth college in the autumn, then worked briefly for a tailor and also for the Civil Service.
In 1940 he made his first professional appearance as a comedian at the Avon Road Social Club, but he was not an overwhelming success.
Later in that year he appeared, with similar results at at the hall of the Church of the Sacred Heart, in Richmond Hill.
In the Summer of 1941, after working as a potman at the Pembroke Hotel, he joined George Fairweather's "Black Dominoes" concert party, performing at Boscombe Hippodrome and at local army bases
He was called up and joined the RAF in 1942, spending most of the war performing with Ralph Reader's Gang Shows.
The late 1940's were dotted with music hall, cabaret and pantomime appearances.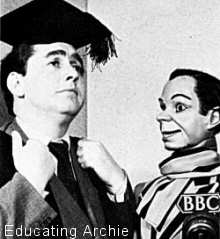 But his career as a comedian really took off in the 1950's with the popular radio show "Educating Archie" and then with his own show "Hancock's Half Hour".
Both were listened to and enjoyed by millions.
With a subsequent string of films, television and radio programmes he was one of the funniest and most successful personalities of his generation.
But success did not bring him happiness.
Dogged by alcohol and depression he tragically ended his own life in 1968.
---