Public Transport - Trams to Yellow Buses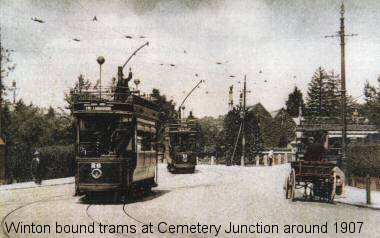 Until the beginning of the last century, getting from Winton to Bournemouth meant walking, cycling or riding in a horse drawn wagon. The big change came in 1902 with the introduction of trams.
A single tramline was constructed to run the length of Wimborne Road down into Bournemouth. A tram depot was established at the Moordown Terminus in May 1906.
Some of the staff uniforms raised interest. A reporter from the Bournemouth Graphic wrote in 1902 that "the gorgeous apparel of the Bournemouth Tram Car inspectors closely resembles that of a military staff officer", and that a lady had assured him that there was "enough braid on each inspector's arm to trim a dress for herself and another for the baby."
Services were frequent. They were noisy and slow, but you normally didn't have to wait more than 16 minutes for a tram.
Electric power for the trams was provided by the Borough Council's own power station in Southcote Road. It had four coal fired steam generators.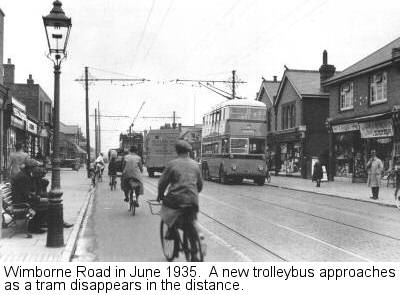 There were no tram services on Sundays until 1913. The decision to introduce them followed controversy and a local referendum - and even then the service did not start until 2pm in the afternoon. Sunday morning trams did not appear until 1926.
Many tram drivers refused to work during the 1926 General Strike and their jobs were done by volunteer amateur drivers. This resulted in several lamp posts being knocked down, including one in Wimborne Road.
The last new trams were delivered in 1926. The tram service ran until 1935 when it in turn was replaced by trolleybuses . Many of the redundant trams were scrapped, but some ended up as chicken coops, garden sheds and even living accommodation.
Trolleybuses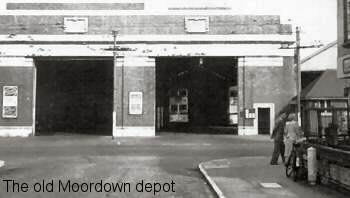 Electric powered like their predecessors, the new trolleybuses had been tested since 1933 and proved to be smoother, quieter and faster than the trams they replaced. The absence of tram rails also meant one less hazard for cyclists.
In the late 1930's the trolleybuses also replaced several bus routes including Charminster Avenue, Winton to Talbot Village and Wallisdown and Ensbury Park and Columbia Roads.
Just as they had replaced trams, trolley buses were eventually replaced by buses which were more flexible and cheaper to run. They were finally phased out in 1969. The fleet included the last nine trolleybuses built for regular use in Britain. Click here to watch a video report on the last Bournemouth trolley buses.
Here are the first trolley bus routes:
| | | |
| --- | --- | --- |
| | Route | Introduced |
| The Square to Moordown (via Richmond Hill) | 26 | June 1935 |
| The Square - Lansdowne - Cemetery Jcn - Moordown | 27 | June 1935 |
| The Square to Castle Lane (via Charminster Rd) | 28 | August 1935 |
| The Square to Malvern Road | 29 | April 1937 |
| The Square to Wallisdown (via Winton) | 30 | May 1937 |
| The Square to The Square (via Kinson, Winton & Cemetery Jcn) | 30A | April 1939 |
Buses
Buses had been a local feature since the beginning of the last century. At first they served as "feeders" to the tram service, and eventually adopted main routes in their own right.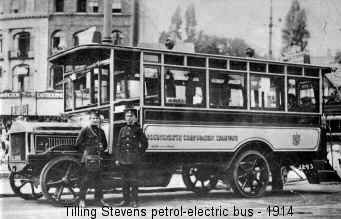 Despite what modern car manufacturers may say, hybrid power is not a new thing. Early Tilling Stevens buses introduced between Cemetery Junction and Fiveways in 1914 were powered by a combination of petrol and electricity. The petrol engine drove a dynamo which in turn powered an electric motor. The result was a smooth ride and acceleration in a vehicle that had no clutch or gearbox. The vehicles were withdrawn at the outbreak of the First World War, but ran again for a couple of months in 1915.
Improved design and reliability meant that buses started to make headway in the 1920's and 30's.
An extension of local bus services in 1927 included a new service from Queens Park to Winton via Richmond Park Road and Alma Road and one from Kings Road to Malvern Road via Ripon Road.
To overcome the relative slowness of trams, an express bus service was introduced between Square and Moordown in 1930. It ran every 15 minutes with Thorneycroft 32 seater coaches.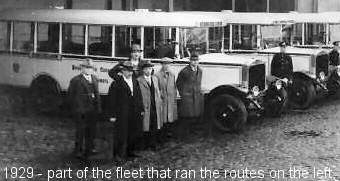 The bus routes serving Winton people by 1931 were as follows:
3: Square - Kinson via Winton
4: Square Charminster via Castle Lane
5: Square Charminster via Malvern Road
7: Boscombe - Columbia Road via Winton
9: Winton-Talbot Village Wallisdown via Columbia Road
13: Moordown to Queens Park via Holdenhurst
14: Moordown to Iford via Castle Lane
Wartime
On the day in September 1939 that the German army swept into Poland, a huge fleet of 30 buses rolled through Winton carrying evacuee schoolchildren from the station to Talbot Heath School. Two days later on the declaration of war, all bus services ceased at lighting up time.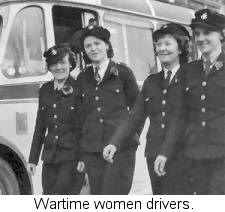 A week later a restricted service was introduced to run through the blackout. Some buses were converted to emergency water carriers for the fire brigade, one became a mobile first aid post and another became the headquarters for the Moordown Home Guard. Others were sent to other parts of the country.
As many men were now serving in the forces, Bournemouth got its first woman bus conductors in 1941. Around 200 of them were subsequently trained as drivers.
The first diesel buses appeared in 1943. Because of paint shortages they were simply finished in grey or brown. All buses were fitted with shades over their headlights to prevent them from being seen by enemy aircraft.
A number of bus services were curtailed during the war and there were no buses after 9pm. Sunday services started at 1pm except for special workers buses which also ran on Christmas Day.
After the war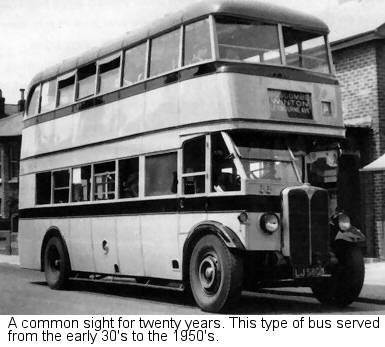 Vehicles were replaced after the war and services expanded. The Bournemouth public transport system reached its peak in 1950 with more passenger journeys than at any time before or since..
But the end of petrol rationing in 1950 led to a rapid increase in car ownership and subsequent decline in public transport.
The opening of Mallard Road depot in 1953 prompted the closure of the Moordown trolleybus depot and its lease to Post Office Telephones. The site is currently occupied by the Somerfield supermarket.
Buses finally ousted the electric trolleybuses at the end of the 1960's, but public transport continued to be in decline.
In a move to slow the process, Bournemouth Corporation Bus services were re-branded as "Yellow Buses" in 1982. Single person operation was introduced in the 1980's and the last conductor went in 1986.